sehari sebelum konvo adik..kitorg sme adik beradik + sis in law punye parents sme berkampung 3 hari 2 malam amek 2 bilik dekat palace of the golden horses. korang biasa x masuk hotel secara berjemaah? kitorg biasa je buat tp xselalu lah..kdg2 je tp pandai2 la nk cover kn..jgn la ms check in pun nk berjemaah :p
seperti biasa..dimana ade i..disitu pasti ade pasangan i jugak. hari tu hari jumaat. lps je die semayang jumaat..die blk office tanpa lunch. lepas i check in pkul 3 cmtu i pegi culik die bwk g alamanda. mula2 niat nk culik die kejap je utk mkn tengahari sm2..tp dengan xsengajanye i dah terculik die smpai habes waktu bekerja. terlama la pulak lunch ari tu. mintak maaf bos incik bf..muahahaha..
makan tengahari i..
ayam percik..begedil..telur masin..sambal belacan + timun. mmg layan lahh...slurrrppp
lps mkn..pegi beli swimming suit si aleia n alany..then pegi booking ticket movie..konon nk tgk midnite..n pegi jugak beli hadiah convo adik. xbeli ape pun yg special..beli cookies famous amos je. mula2 xtaw nak beli ape tp die ade pesan kalau nak beli..beli makanan sbb die kata senang..xyah nak simpan2. bukan xnk simpan kenangan..tp xnk menyemak rumah dengan menambah lg barang.
blk dr alamanda..tanpa rs bersalah..singgah office encik bf jp drop die untuk die amek kete die. then blk hotel naik kete asing2. xsmpai lg hotel tbe2 die call tanye i dekat mn n die ckp da smpai. aikk..magic btul die ni. i gerak dulu..die plak yg smpai dulu. sah la tu bwk kete merempit
padahal i yg ikut jln jauh sbb xtahu jalan..hahaha
td cerita psl lunch kn..skrg cter psl minum petang pulak.
keje i sepanjang balik hari tu makan dan makan dan makan. itu je yg i ingt. smpai hotel then masuk bilik kejap lps tu xbley duduk diam n ajaklah bf n adik turun bwh lepak2 crk mknn n habeskn coupon welcome drink..
disebabkn mulut i ni xbley behenti mengunyah..mkn la kitorg lg utk minum petang pulak.
xsia2 turun bwh crk mknn sbb chicken pie die terbaek. sedap smpai menjilat jari. bf kata lg sedap dr starbuck punye. sejak dr tu kat mn2 jumpe chicken pie i tanye die nak ke x mesti die xnk. die ckp nak yg dekat palace punye je..xnk tempat lain.
aleia n alany pun ikut..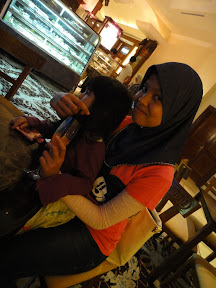 nmpk x alany? ade gergasi yg telah memeluk alany smpai tgk dua tiga kali br nmpk alany. semakin lama di malaysia..semakin bertambah sehat badan i. x payah tgk tenung lm2 gmba i pun da bley nmpk yg peha n
bontot
semakin membesar n perut juga makin kedepan. stress i ms tu sbb dah ade yg start tego2.
ok..dah taw kn mn nak crk chicken pie yg sedap. kalau nk mkn chicken pie yg sedap datang lah ke palace of the golden horses, seri kembangan. cafe ni terletak kat lobby. selain chicken pie ade juga puff2 lain n pastry2 dan jugak cake. harga adelah tidak melampau. lebey kurang secret recepi je i rasa.
xmenyesal kalau cuba sbb mmg sdp. okey bye!
- Posted using BlogPress from Orked's iPad