blogpress i bermasalah. entry ni dah seminggu i publish lepas tu x kuar2 dekat blog. ms tu dah fedup then terus rasa malas dah nak update blog. tp td masa bukak blog guna lappy *slalu guna ipad kesayangan je*..i nampak ade entry tahun 2001. i pelik sejak bile plak i ade blog sejak 2001. then i pun tgk la. rupanye entry yg update last week tu tarikh die 01/01/01. hampes betul. patut la x kuar dekat new entry.
ok now dah betul kn balik segala kekacauan yg ade. here we go entry candy buffet i yg marvelous bagi tp mungkin x marvelous bagi org lain..hek3
mmg puas hati sangat2 buat candy buffet ni sbb mmg sgt berbaloi buat sendiri. i ade tanye few quotation untuk candy buffet. untuk harga rm600 to rm800 akan dpt dlm utk 30-40pax je n tu just basic menu je. xde stawberry smpai berkilo kilo n xde chocolate fountain..
dengan cost yg sama..kitorg dpt buat mcm yg kat bawah ni..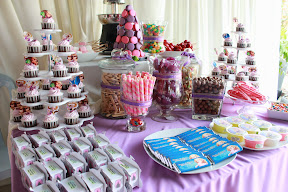 tahulah bahawasanye kitorg x creative nk deco cantek2..so xde la cntek mn..
ohh lupa nk bgtaw..ni kitorg buat sempena bday party double a..
menu untuk candy buffet kitorg hari tu:-
# cupcakes i order 50pcs.
# macarons 75pcs
# love letter
# sweets in cinderella carriage
# personalize chocolate bar
# personalize jelly
# chocolate malteser
# candy cane
# biskut swirl
# biskut roda
# chocolate fountain
# biskut jari
# marshmallow
# strawberry
# pisang
theme: purple n

pink

(tangled)
cupcakes ni rm1 each. murah kan. boley choose kaler tp die bg simple design je la. kitorg mintak kaler purple n order 50pcs. then utk menambah seri..kitorg diy tangled cupcakes topper.
ni pun kitorg buat sendiri yeee..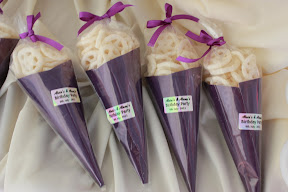 isi nye beli la...xkn tu pun nak buat sendiri :p keropok roda ni beli kat kedai borong. satu paket besar tu belas belas ringgit(xingt harga) utk 1kg ke bape ntah tp mmg bnyk la sbb kitorg guna utk 2 function. plastic beli kat kedai plastic...then beli kertas warna yg ms kecik2 cikgu suh bawak utk pendidikan seni tu then beli ribbon. itu saje..
chocolate fountain kitorg...
kitorg guna chocolate buatan tempatan. jgn ingt chocolate tempatan x berkualiti. nak dibandingkan tempatan n import..untuk chocolate yg kitorg guna ni...tempatan lg better. murah pun murah..so dapat la serve dengan tanpa kedekutnye...
ade marshmallow yg sgt bnyk..strawberry berkilo berkilo n pisang juga untuk dimakan bersama sama..
strawberry kitorg import dari cameron highland. xingat beli bape kilo. tp bnyk la jugak. tq ayah sbb merialisasikn impian kitorg nk ade strawberry. susah payah ayah buat arrangement untuk bwk turun strawberry dari cameron ke rawang. fresh dari ladang. xpayah nk beli dekat giant tesco sme. jimat pun jimat..
then
macarons adik yg tolong orderkn. pandai die carik sbb murah. rm100 utk 75pcs. ok la kan...xla mahal sgt. rasa die okey. x boleh la nak expect beli macarons murah tapi rasa die nak sedap mcm beli macarons laduree yg harganye mahal dan mmg xkn jumpe pun kat kl tu.
marshmallow kitorg beli 2kg rasanye. sekilo dlm rm75 ke bape ntah. 2kg tu kitorg guna utk 2 function gak. 2kg tu bnyk k..mmg berlebih lebih pun..smpai skrg x abes lg. marshmallow kitorg cucuk2 kat lidi untuk dipair kan dengan chocolate fountain..
love letter kitorg beli yg biasa2 je. bukan yg mahal tu ye :p beli 1 bekas dlm rm5 lebey cmtu...
jelly bean sekilo dalam rm50++
chocolate malteaser tu bwk balik dr dublin..xingt harga. tp i xsuggest letak chocolate utk majles yg buat kat luar mcm kitorg. habes cair chocolate kitorg. kalau buat kat deqan ber aircond ok kot..
biskut swirls and biskut jari kitorg beli satu tin besar dekat kedai borong jugak. murah je. boley guna up to 4 function lah. ari tu kitorg guna setengah je.
ini org kuat i...yg free hair tu..
die n adik i lah tulang belakang yg menjayakan candy buffet ni.
tq adik n nieny..korang mmg terbaek. nnt kak yan kawen tahun depan korang amek kontrak untuk candy buffet k. muahhss3..sayang korang..heee :p
- Posted using BlogPress from Orked's iPad